36 High-Paying Jobs With Little Schooling (With Salary Information)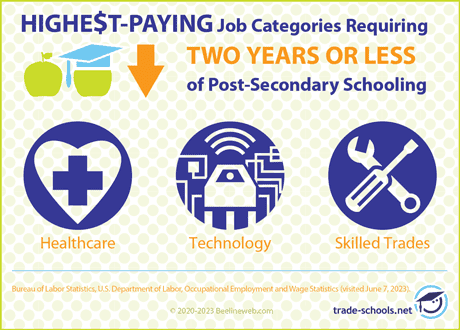 27 Of the Highest Paying Jobs with Little Schooling
The cost of a traditional college degree is one of the biggest contributors to both personal debt and Family stress. Even worse, many of those with traditional degrees are not working in their degree fields because of a lack of openings and their preferred fields or a change of priorities and focus. But you can always find jobs that require short courses, leading to simple high paying jobs. All you need are short IT courses that pay well.
As a result, many people are now preferring a straighter path into the Working World. By that, we mean jobs that require at most an Associate's Degree or a few weeks of study and on-the-job training. Learn more about Associate Degree jobs here.
The key is to find a profession that fits your personality, your talents, your abilities and your energy level. Consider making a good job skills to list on your resume, list of the skills you already have and the ones you will need training for. This will help identify areas you need to work on for the chosen job.
For example, you don't need a Bachelor's Degree to be a bookkeeper, but one skill needed for a job in that field is the ability to do basic math. Others that are more adventurous, such as commercial diving, will need a specific type of training.
There are also many high-paying Trade Jobs you can start with just a high school diploma, many of these have apprenticeships where you can learn your trade while earning a paycheck. You can learn more about Trade Jobs here.
Before seeking out training for one of the jobs below you should consider your personality, some jobs require direct interaction with clients or customers while others are more team-based or even solitary. If you are more of an introvert then you may want to consider a job where the interaction with customers is minimal.
Maximize Your Return-on-Investment (ROI) at a Trade School
In contrast to most traditional four-year institutions, career and technical schools specialize in putting students on a more defined path to succeeding in the job market. And they offer the chance to earn quick degrees or diplomas and complete fast career certification programs. Many of the highest-paying entry-level jobs can be attained with only two years or less of focused career education.
That's the real value of short vocational schooling. It's all about getting new opportunities and a positive return on investment (ROI). In this case, ROI refers to the extra amount you can earn in your lifetime as a graduate, after subtracting the cost of schooling and the amount that a typical non-graduate would earn.
The ROI of graduating from a vocational college or trade school is often very good since you learn marketable skills and technical abilities that employers need. Plus, your time is valuable. So why spend extra time training when there are great careers with little schooling you can get into sooner?
Source:
https://learnjobskills.com/highest-paying-jobs-with-little-schooling/
https://www.indeed.com/career-advice/career-development/high-paying-jobs-with-little-schooling
https://www.trade-schools.net/articles/highest-paying-jobs-without-degree